Rod Holders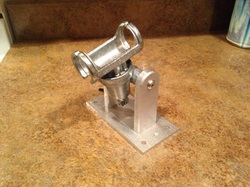 ​Boat set up questions you can call or text 814-602-8324




Fat A.Z. Musky Products is starting to expand into the trolling market, but not with baits. We have finished up an initial run of run holders. These are Down East "Salty" rod holders, with Fat A.Z. Musky Products bases.

Our rod holders give the user the solid performance of Down East holders with the ability to tip the rod for down rods, or a fast tip up to make the baits run shallower. Down east has been selling rod holders for a very long time and they work great, we just made them the even better.

They are universal mounting with the option of sliding the unit into a track or directly bolting them to your boat.

We offer then in two styles; strait and slanted (for extra reach over the side of your gunnel)


We also offer the rod holders with and with out the Down East holder. This option is offered because some customers already have the Down East holder from a previous setup.


---
Muddy Creek Fishing Guides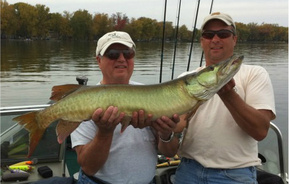 Todd Young of Muddy Creek Fishing Guides has been having great success this season using both Sloppy Swimmer and Sloppy Senior. Below is an actual email that was sent to me from a client of Todd's after they spent the day fishing on Chautauqua, the photo to the left accompanies the email.
"
Andrew,
This past week I had the pleasure of booking a trip with Todd Young on Chautauqua Lake. Myself and my wife's cousin were on a mission to get my father in law ( Dave) his first musky. At age 69, catching a musky was on his "bucket list". Well, because of Todd and your products, you helped make his dream come true. After trolling for a few hours, Todd decided that casting would possibly be a better solution to the very stubborn fish that day. It had been a very slow bite as of late and he thought casting may trigger the strike we were hoping for. Todd rigged up Dave's pole with one of your "sloppy swimmer" baits. After a brief lesson, my father in law was casting away. Well after a few casts: " Fish on"!! The musky had slammed the sloppy swimmer bait and was giving Dave the fight of his life. After a few minutes and a nice aerial show, the 42" fish was in the net. Todd and Andy, I must thank you for helping fulfill a dream of my father in laws. Being that it was the only fish we caught that day, I can't help to think that if we were not using your bait, we may never would have caught that fish. Thanks again for (as my father in law calls it) a "fish of a lifetime"
P.S May be you should change the name from sloppy swimmer to "The BL(bucket list) swimmer"!!!!
Lou. "
If you have an interest in fishing Chautauqua Lake, give Todd Young of Muddy Creek Fishing Guides a call at (724)-674-3839 or visit his website at
www.
mcfishnguides.com/index.html

Please check out the gallery page to see many more happy clients of Muddy Creek Fishing Guides.
---